Va prezint un mic Mod numit ADMIN MOD [color="red"]X[/color]!
Addonsu Contine:
ADMIN MOD X v1.00n
Metamod v1.19.0.0
Booster-Lite v1.13
Principale (Totale 8) - Necesar sa fie activate
admin.amxx - Plugin principal pt admine
adminbase.amxx - Comenzile serverului
adminrestrict.amxx - Comanda de restrictie a armelor
adminvote.amxx - Comenzile de vot
nextmap.amxx - Comanda /nextmap
plangere.amxx - Comanda @ MSG in team say
swearfilter.amxx - Restrictioneaza cuvinte obscene si reclama!
public_rules.amxx - Afiseaza regulile in hud la intrarea pe server si prin comanda /rules
Optionale (Totale 4) - Nu sunt necesare decat pt design!
amx_who_clasic.amxx - Afiseaza adminii in metoda clasica(Grupe si admini)
[COLOR="Sienna"]amx_who_nou.amxx [/COLOR] - Afiseaza doar adminii online
[COLOR="Sienna"]amx_who_hud.amxx[/COLOR] - Afiseaza adminii in hud la comanda /admin
[COLOR="Sienna"]amx_who_motd.amxx[/COLOR] - Afiseaza adminii in MOTD subforma de grupe
Automate (Totale 8) - Totale Pluginuri care ruleaza in timpul jocului
adminslots.amxx - Sloturi pt admini
antiflood.amxx - Nu permite floodul in chat
hpk.amxx - Ii da afara pe cei cu lagul de 100
psycholisten.amxx - Admini vad la tot ce se scrie pe server
mapchooser.amxx - Cand se termina timpul se voteaza automat alta harta
namemanager.amxx - Ii tine afara pe cei cu caractere interzise(` ~
lastround.amxx - Avertizeaza jucatorii de ultima runda si ii lasa sa o termine
imessage.amxx - Afiseaza pe server mesaje informative
Fix (Totale 4) - Rezolvari la unele bugguri
roundsoundblocker.amxx - Blocheaza sunetul GO GO GO cand incepe runda sa se auda PREPARE TO FIGHT corect!
showndead_bug_fix.amxx - Cand cineva inta de pe internet si e pe server acest plugin previne cs-ul sa il scrie mort in score board!
silent_nade.amxx - Blocheaza sunetul FIRE IN THE HOLE! Cateodata cand e flood de grenade se mareste lag-ul
zero_hp_fix.amxx - Impiedica afisarea vietii cand esti mort
Secundare (Totale 5) - Statistici & sunete
firstblood.amxx - La primul dmg de pe harta se aude FIRSTBLOOD
miscstats.amxx - Diferite sunete si statistici
stats.amxx - Statistici precum cel mai bun,rank,top10,statsme
streak.amxx - 5 trepte, MULTIKILL..etc, va las sa le descoperiti!
c4timer.amxx - Arata cate secunde mai sunt pana cand C4 explodeaza
INFORMATI:
Ce este defapt acest ADMIN MOD [color="red"]X[/color]?
-Acest Admin Mod X este un addons specializat cu comenzi numeroase si statistici avansate!
-Are ca suport amxmodx 1.76d!
-Are pt windows si pt linux cu 2 feluri de comenzi, comenzi incepand cu amx_ si comenzi incepand cu admin_
In proportie de 90% scripturile sunt facute de mine! NU MODIFICATE CI FACUTE!
Colaborator principal a fost anakin_cstrike!
El functioneaza pe serverele NOSTEAM SI STEAM cititi doar instructiunile din configs!
Numai are fisiere de tip lang pt ca le-am sters, iar sma-urile inca nu le postez pt ca nu vreau eu!
I-am adaugat un sistem prin care sa verificati cand intra adminii si cand ies!
Am adaugat si logs detaliate cu cine si ce comanda executa!
Am mai adaugat un sistem de punctaj, prin care se calculeaza la fiecare jucator astfel VICTIME - DECESE!
2 Module trebuiesc activate mereu:
cstrike
csx

Daca doriti sa il postati pe alte forumuri, inregistrati-va aici si postati aceea cerere!
Eu va propun sa downloadati si arhiva resurse ca acolo se afla sunetele care va trebuiesc
!
O dezarhivati in cstrike la server!
In urmatoarele proiecte o sa fac [color="green"]colaborari[/color]!
Multurimi speciale celor care m-au ajutat:
Anakin_cstrike
Jaws
Jocker
x

Daca am uitat pe cineva [color="Red"]BUZZ!![/color] PE MESS
Cateva Poze demonstrative: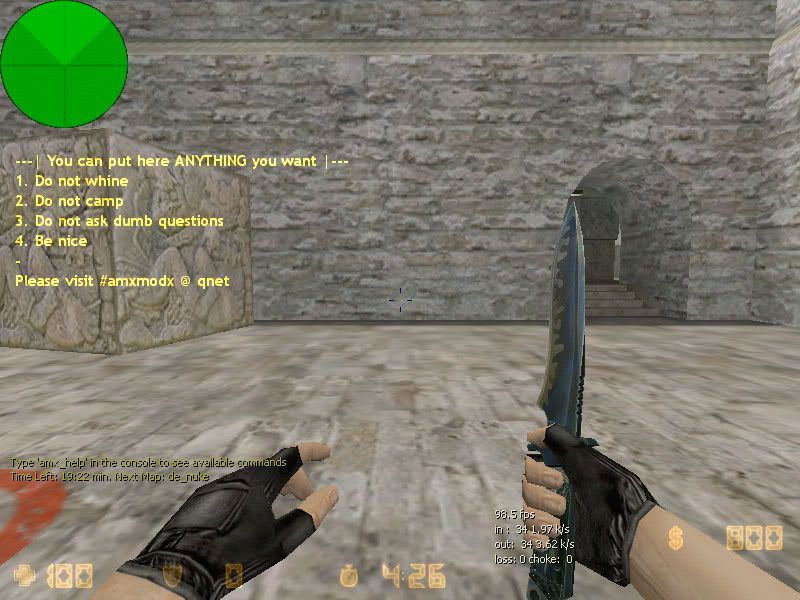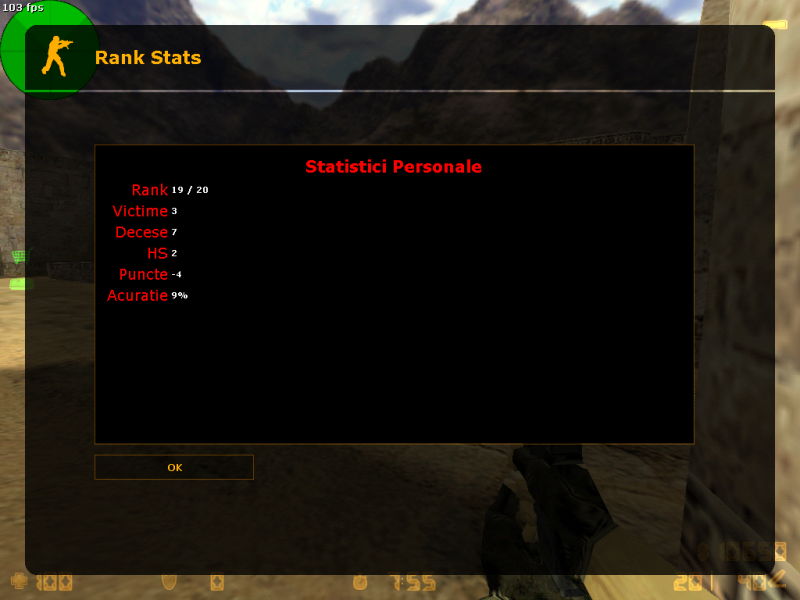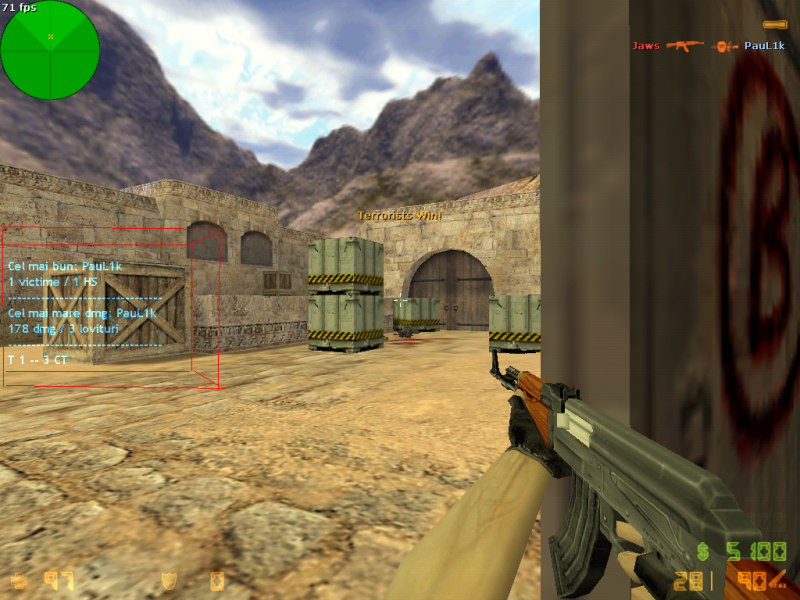 Download Admin Mod X:
Download Addons Admin Mod X
Download Resurse:
Download Resurse